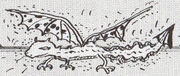 Electricsquirms are a species of dragon from the How to Train Your Dragon books by Cressida Cowell. They are primarlly featured in "A Hero's Guide to Deadly Dragons".
Statistics
Edit
COLOURS: Transparent
SIZE: Very small
POISON: None... 0
RADAR: None... 0
ARMED WITH: ELECTRICITY... 8
DEFENCES: Electricity... 8
SPEED: Quite nippy... 0
FEAR AND FIGHT FACTOR: Harmless if picked up by the tail... 5
This nanodragon is not aggressive, but it gives a truly terrible (although not fatal) electric shock when touched. Like their close cousins the Glow-worms, these creatures can be used as a source of light if no flame or candle is available.