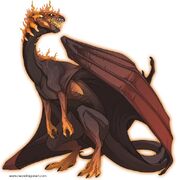 The Flamecaller is the elemental god of Fire dragons in the world of Flight Rising.
Description
Edit
The Flamecaller is the Reigning God of the Fire Flight.
She resides in the Ashfall Waste, atop the Great Furnace. She is one of the First Four, preferring actions to words. In the beginning, she suggested the world should be covered in magma, to rival the sun. During her battle with the Earthshaker, her smoke blocked out the sun, leaving parts of the world obscured and frozen, and released intense currents of magical energy, which resulted in the creation of the Icewarden, the Shadowbinder, and the Lightweaver.